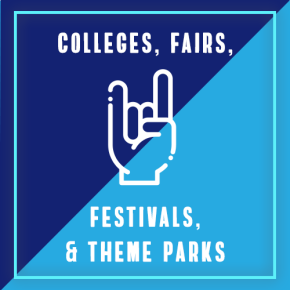 Colleges, Fairs, Festivals, Theme Parks
$499.00
This digital contact list will put you in touch with virtually every colleges, fairs, festivals, and theme parks that books touring artists.
4,850 approx. contacts
Digital Contact Information includes:
Mailing Addresses, Phone, Fax, Email, Company Type, Website
Please note: Digital Contact Lists will be delivered to the email on the account shortly after purchasing.
Description
ATTENTION: Actual Quantities of names/companies will vary. Email addresses and websites included when available. We reserve the right to withhold the distribution of Pollstar Digital Contact Lists to any individual or organization. Digital content will be sent in excel format. Pollstar Digital Contact List information is for internal use only and is subject to a License Agreement. Information provided by Pollstar may not be used or repackaged in any way for commercial purposes. By purchasing any Digital Contact List, you have agreed to the License Agreement. Please allow up to 3 business days to process this order. We will be contacting you soon.