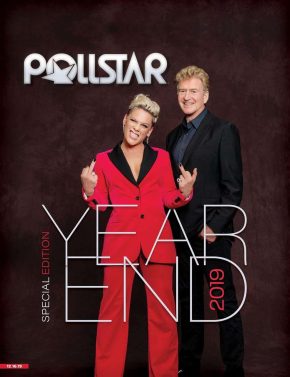 Year End 2019
$99.95
SE Year End 2019
Sample issue of Pollstar magazine
(click to preview sample issue)
Issue Date: December 16, 2019
Year End 2019 Special Edition
The Year-End edition is home to our major charts – top tours, promoters, venues and ticket sales for the 12-month period, plus a recap of the year's events and the weekly features.
Year End Features Include:
2019 Top North American 200 Tours – Features average grosses, average ticket price, average ticket sales, total tickets sold, number of cities / shows and agency listing.
2019 Year End Business Analysis – Discover the statistics about the health of the concert industry. Ticket sales volumes, prices, prospects for 2019 and more are analyzed.
2019 Year End Top 200 Concert Grosses – The 200 biggest concerts of the year are listed with date, artist / facility / promoter, tickets sold / capacity and gross.
2019 Year End Worldwide Ticket Sales lists total tickets sold by Promoters, Amphitheaters, Clubs and Outdoor Stadium / Festival Sites.
2019 Year End Top 100 International Boxoffice Grosses.
Saddle Bound
ALL SALES FINAL – NO RETURNS ON MAGAZINES
When purchasing hard copy magazine, subject to availability. Otherwise digital only.